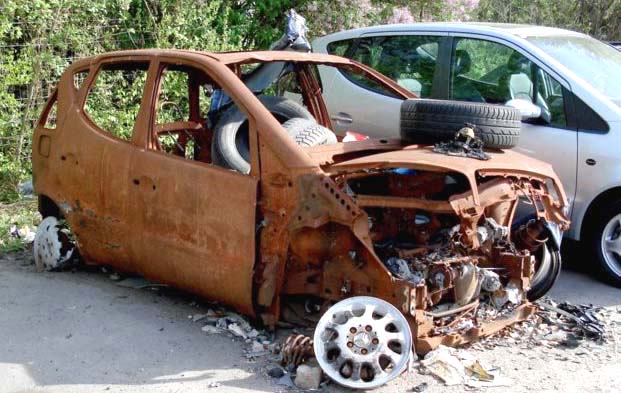 This Car was at some point an Owners pride and joy! Not now. Looking at the damage on the near/side of the car it appears it was involved in an earlier accident/incident
In my opinion
and judging by the evidence around this car, it burnt where it stood indicating that a short circuit, vandalism, or even arson was the cause and that the fire took place after it was moved to this site, normally the debris laying around and under this car would be left at the scene of the incident.
Remember if your car is involved in an incident (there are few accidents) where damage is caused to the structure of the vehicle, which endangers the loom or you discover
loom damage as shown in the photo's below
it can cause a short circuit and result in a fire. In such cases the wires involved will glow red hot then melt the insulation of other wires. Only disconnection of the battery, the source of ignition, will stop this chain reaction. Therefore turn off the ignition and disconnect the battery at your earliest opportunity and in any case it should be done before the car is moved before a possible fire starts.
Damage to the wiring loom and insulation does not have to be caused by an accident in can also be caused by abrasion as happened on my own car. The result if a short circuit does occur
could
still be the same.
Please look at the photo's and information below and then check your car .
Tomorrow may be too late? In the last two photo's on this page there are copper wires exposed.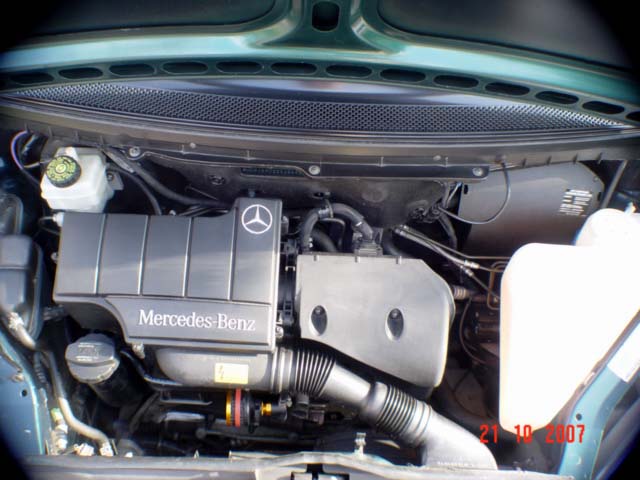 Keeping and eye on your car for potentional problems can save you a fortune and breakdowns.
It is also apparent from my own experience and that of a fellow owners David and Axle, as well as many more owner that the loom/cables located at the back of the engine bay, air filter housing and to the rear of ECU/MAFS are very susceptible to chaffing along with coolant pipe work (water Hoses) at various points.
It is therefore necessary to secure these with cable ties, and to ensure the the rubber buffers fitted to the hoses etc are correctly positioned. In most instances the problem arises where these ties have for some reason been removed and not replaced or indeed not fitted in the first place. It is therefore well worth checking that your car to ensure yours is NOT doing the same, and that you looms & pipes are secured and free of damage. see
A
in the third photo down as an example of the problem located.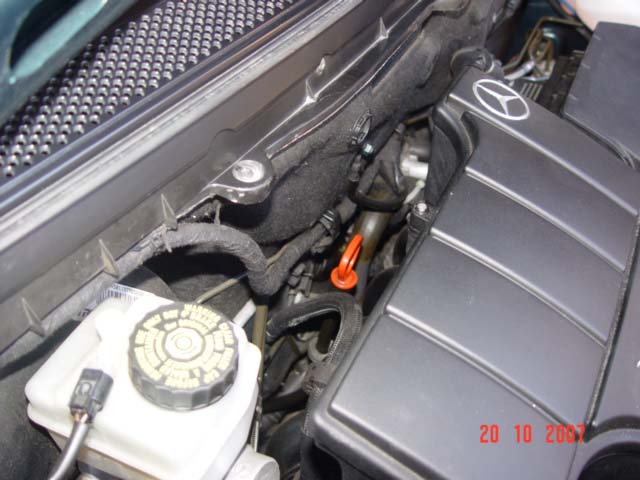 Make sure that when you inspect your engine bay that all looms are clear from anything that may damage the loom casing, cable ties and rubber buffers correctly positioned will prevent damage. If loom casing is found damaged then ensure the cables themselves are not damaged. If damage has not already commenced, but only effects the insulation of the cables and not the copper wires themselves then insulation tape wound round the damaged wires will prevent further problems. Thereafter inspect and regular intervals to ensure looms remain undamaged.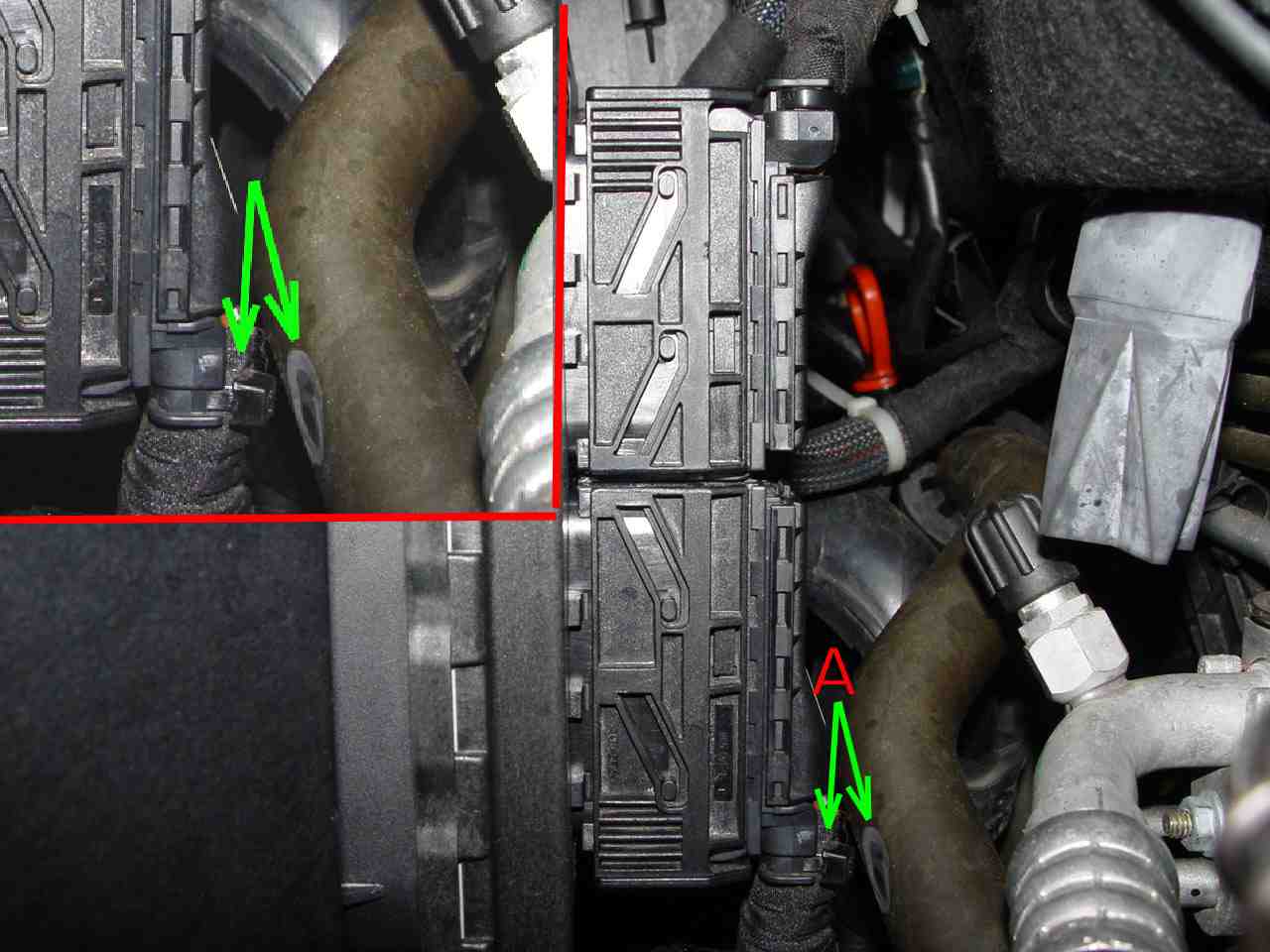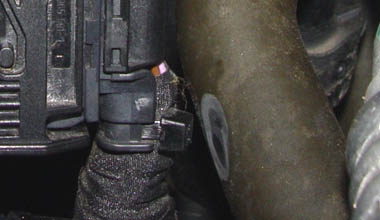 While working on the car it is also well worth while looking for chaffing and rubbing of components parts In these photos it can be seen that the loom of the lower ECU cable connection have been rubbing against a water hose, wear being caused to both, with quite severe abrasion to the hose wall. Early intervention saved not only a major problem caused by coolant loss but also the failure of the car due to badly damaged ECM.
Close inspection of the hose in question has clearly indicated that this would have been a major job although one end of the hose can be located the other disappears under the engine and there is no way it could have been reached without lowering the engine. SO be warned it is well worth checking yours
Trying to stay one pace ahead of this car, I considered how I would have overcome this problem had the hose worn through and leaked, The damaged section would need to have been cut out, and a piece of copper or suitable tube inserted to rejoin the hose along with two 'jubilee' type clips, that at least would have saved a major repair bill. But prevention is better than cure, so check your cars.
Damage such as this clearly indicates that the outer loom casing is in contact and being damaged by vibration. A cable tie and repair tape at this stage will save further damage and eventual breakdown. Both of these defects have been found on my own car purely as a result of inspection.
Hi, lofty
My car had also suffered some minor loom damage in the same areas highlighted on page54. Luckily there was no damage to the actual wires, so repair was easy using loom tape. Unfortunately, the heater hose was badly damaged, caused by the cable tie on the ECU, and had to be replaced.
The heater hose is only available as a complete assembly ,cost £25 ish from Mercedes, not to bad I thought.
The major problem is access to/removal of the hose clip at the rear of the engine. Removing the air filter housing etc improves access; the use of a remote action hose clip removal tool [ and a generous helping of patience! ] enables the clip to be removed. I bought the hose clip remover from Sealey tools, cost about £25, and saved the need to lower the engine.
Hope this info helps
Regards, Chris
Although Chris was able to repair /replace the hose on his car , he hasn't mentioned the hassle of draining the coolant before you can even start to replace the hose, as well as the extra expense of replacing the fluid. So check you car before the damage is done you will same yourself a lot of hassle and if you can't undertake the repair yourself , MB will want a couple of hours to do this job which will cost real money.
Incidentally you do NOT NEED a diagnostics test to locate this fault, so make sure your not charged.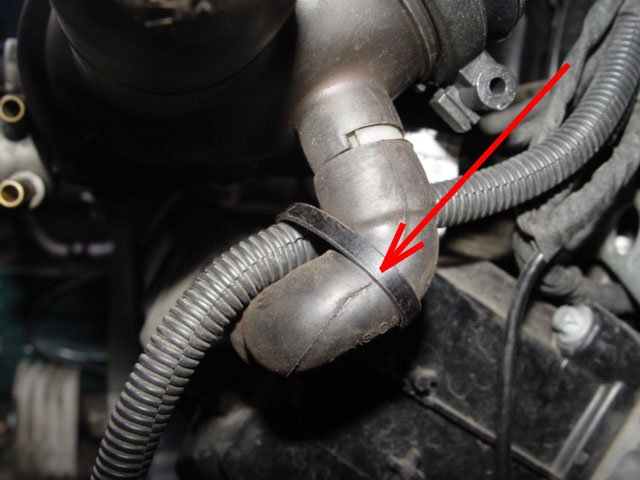 The other area that caused me concern on my own car was the HT lead, the cable going to the ignition module. This is fed through and over a breather pipe going to the ECU/MAFS (rubber pipe) with a metal clip and although the HT lead is in a corrugated tube my concern was that it is subject to vibration on the metal clip . I over came this by applying a cable tie to the HT lead to retain it on the rubber tube .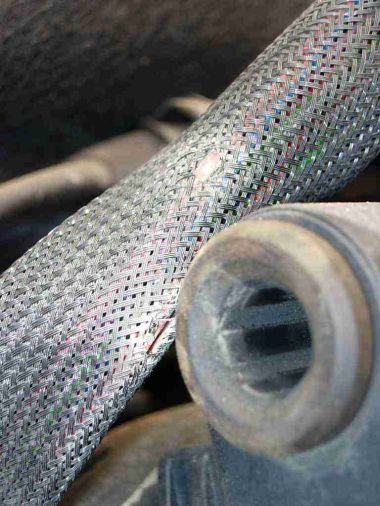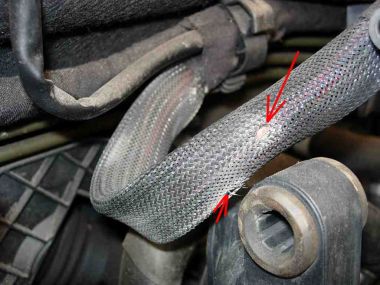 Dave, a fellow owner while working on his car came across several area's which concerned him. In one instance two of the cables housed within the woven nylon loom cover was bare of insulation (outer casing) and he had to protect these wires by applying insulation tape, before repairing the loom cover by applying tape. In the wrong circumstances there could have caused him real problems. A problem all of us can do without, as electrical defects are not always easy to trace once they have arisen.
In Dave's case these defects were discovered when he removed the air filter housing to get at the fuel line clips .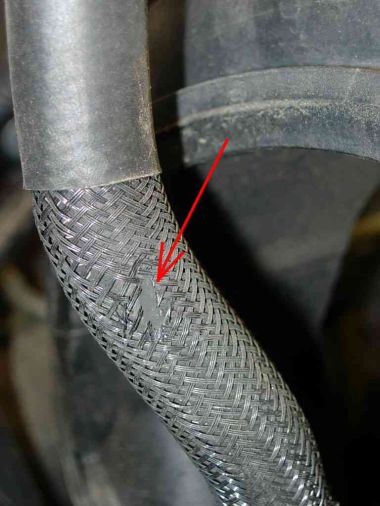 As concerning as the loom casing , the outer covering of the fuel line was also showing signs of wear due to abrasion . In all cases these can be overcome by the application of cable ties and insulation tape or slightly re-positioning the cable or hose but if the damage is any worse then consideration would need to be give to protecting the cables and tube by another means. One such possibility would be the cable tidies, the spiral type that are available which could be applied without disconnecting any of the cables or hoses and are available in lengths which can be trimmed to your requirements. It only takes 15 minutes to inspect your car and it could save you hours at the road side, so take the opportunity to look in day light and before your car breaks down. if there are two cars with similar problems there will be more!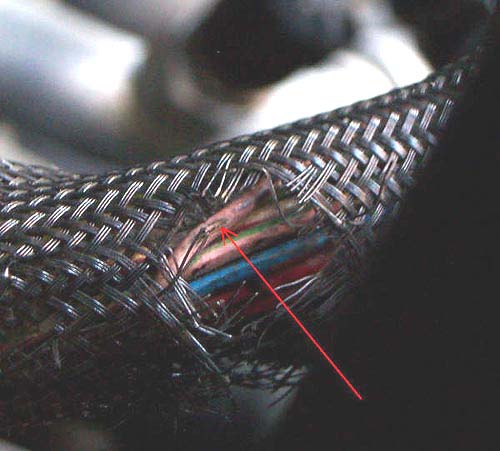 In this case the damage caused the owner a great deal of inconvenience and cost, as can be seen the abrasion has as forecast by me months back damaged cable insulation with has caused the cable to fail along with all that entails.
Could things have been worse YES if the cable had come into contact with metal instead of plastic a fire could well have been the result caused by a short circuit.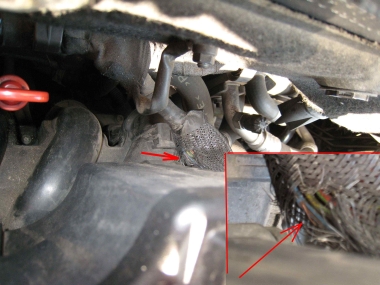 They say "you can't get too much of a good thing" well one things for sure you can get too much of a "bad thing" and here is just one more case of severe damage caused by abrasion.
If this page of information has not got you out of your seat to inspect your car for damage then little else will! This is a very serious defect on the All models of the 'A' class and in this example as with the one above the copper wires of the cables are exposed.
If you are not able to inspect it yourself any garage will undertake the inspection for you . Print this page and take it with you so that they are aware what they are looking for.
These examples are as a direct result of inspections undertaken by owners, as a result of reading this page.
It is now my intention to now sent a copy of this page to Mercedes-Benz in the hope that they will make their workshops World wide aware of the problem.
On the 7th of Nov 07 I contacted Mercedes/DaimlerChrysler bringing this problem to their attention, I await a reply and will let you know the outcome, giving them details of this site and page.
I have today 13/11/07 spoken with Allen of Mercedes-Benz Customer Service Dept and he assures me that they have confirmed that this defect is logged and their workshops will be informed so that when your goes for service and inspection will be made.
You can do better than that inspect your car Now!!
Yet more abrasion problems this time near the throttle body which again in the vicinity of the ECU
Hi All, Greeting from sunny OZ
Last night serviced the A160 (1999 model petrol, 140,000km) Not running perfectly, slight hesitation at idle, would sometimes stall at intersections and the air-con would sometime cause stalling at intersections. Cleaned the MAFS according to the SVC website and Lofty's site. Small improvement. Decided to remove the TVA assembly for a thorough clean (its located under the MAFS and has a large shiny metal throat).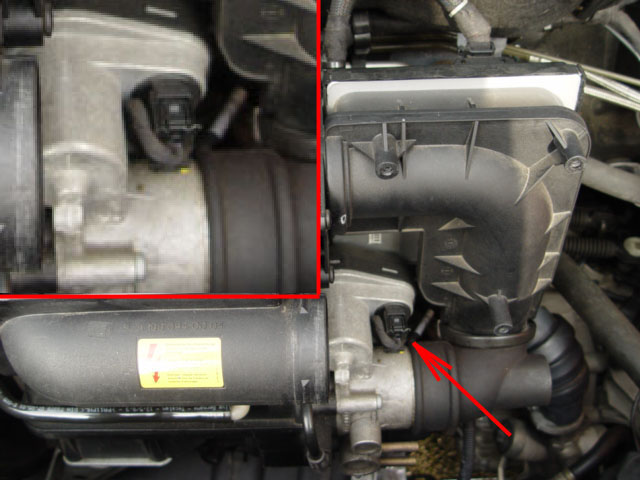 Removed its 6 pin connector, turned it upside-down to move it out of the way and noticed THAT THE WIRING HAD WORN THROUGH TO EXPOSE A BARE WIRE RUBBING ON THE METAL PART OF THE TVA. Re-insulate the wire and reassemble........runs perfectly.
So I urge all owners of the older model petrol A class to check this piece of wiring, the underside is hidden and probably rarely checked by anyone and probably causes an intermittent fault. Happy Hunting
I suspect the abrasion was caused by normal engine vibration, the routing of that part of the wiring loom and the lack of anchoring of that part of the wiring loom. There should have been more shielding of the loom at that particular point. as it passes over the throat of the TVA. I just wonder if any other cars have suffered the same fate, just like the other major loom abrasion problems that have led to car fires as detailed on lofty's site.
I have not inspected my car at present because one its running ok but more importantly the weather is very cold and you will not be able to remove plastic components without causing damage, However I will do when the weather is warmer. Lofty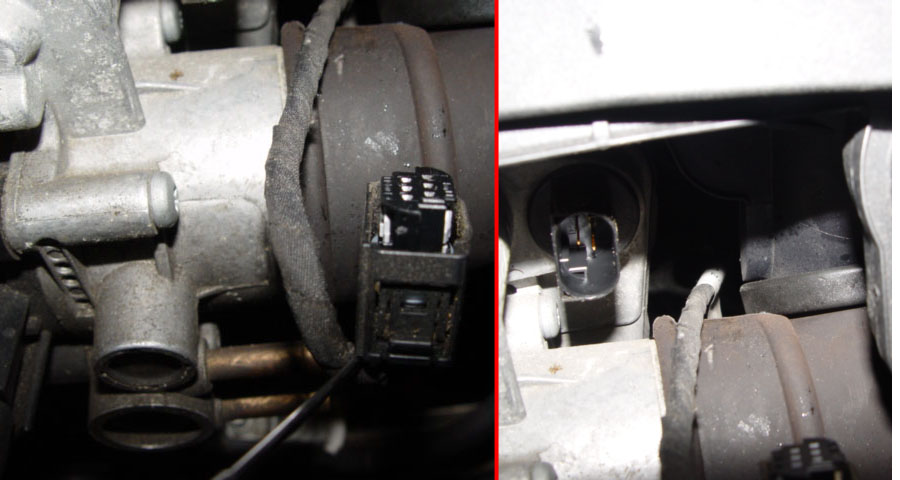 This photo shows the cable going to the air duct temperature sensor that needs to be inspected, although the loom covering is more substantial it does need to be monitored for damage.
Next.
Back to Index,
Purchase DVD.
Please Make a Donation.