Fitting extras to your engine and additions to your vehicle



There is little doubt that if we looked into all the internet adverts along with the various car magazines available on the shelves of book shops we could add and extra to our car for every day of the year, and still have some items in reserve.
Some might be of some use, while others wouldn't be worth the time it took to fit them, so when I heard from a reliable source that there was an addition we can add to our cars that is worthwhile, I sit back a listen, and when that is none other than Sergio from SVC Global who always acts and provides information in an unbiased way, you know it is worth looking into.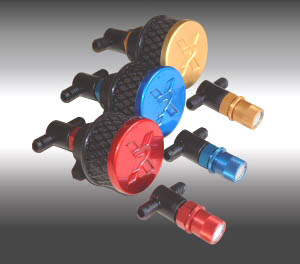 "I can't say that I am into adding bits and pieces to enhance my engine, I considered that having purchased a Mercedes I had purchased the top technology and design available. However having now owned the car for just over three years, I now know better and that the car can be improved and the design could have been better. So when Sergio says that this component improved his cars performance I'm interested. I'll leave Sergio to tell you a bit about it,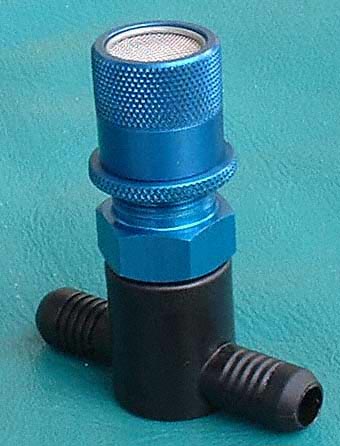 Sergio,
I must recognize that initially we were sceptical about this device. Recommended by a friend, I visited the site of ''Ecotek' Technologies Plc' and saw there was a mechanical device made by this UK company that inserted in the vacuum pipe of any petrol engine that could make improvements in throttle behaviour, increase the mileage and drop the engine emissions.
I personally contacted its representative in US (Colorado) Mr. Brian and brought from him two of the units (CB-26P) for testing. So, buying I'm free to speak my mind and criticize if the gadget was not as good as claimed in their advertisement.
Well, I'm surprised with the results. After the installation, I personally carried out a road test and this little valve (CB-26P) made a world of a difference. The mid range RPM of the engine torque was greatly increased, the engine also felt more responsive. The sensation for the driver was like removing a 100 kg load from inside the car!
Later, we made an emission test with another wonderful surprise. Excellent figures added to those that were already great. They are available at this link. Located in this same page, is an installation and set-up guide for the A Class. No, we are not selling this device. You must go to the 'Ecotek' site and place an order on-line. A good support forum is also available there.
Please note this devise is not suitable for diesel engines. Sergio.

You can read further comments & questions from members on SVC Global by using this link.:-


Take me to the SCV Global site

So there you have it. I am not going to duplicate the companies information here but I would encourage you to visit their site and thoroughly explore the information, test results, etc these speak for themselves and do not need any extra words from me. www. ecotek.com You will note that the CB-26P in the picture above has been fitted with a filter, this is a optional extra but as Sergio says some form of extra filtration in his opinion is advisable.
For the technical specification, claims and availability please visit the 'Ecotek' site link above.

For further comments and installation details on your Mercedes 'A' Class kindly provided by Sergio,
link

SCV Global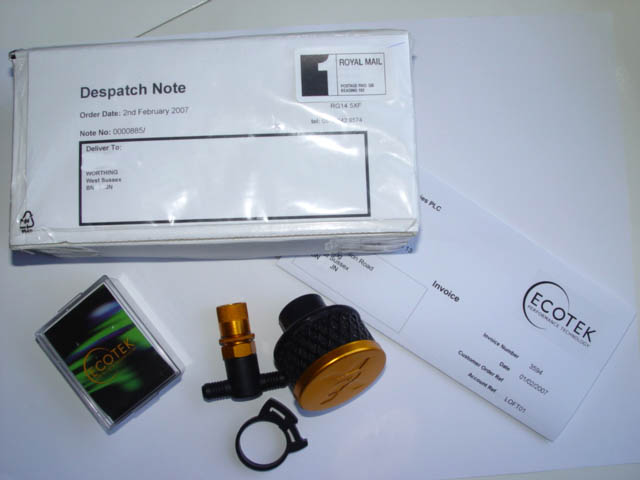 Well I'm impressed I ordered my unit as well as a 'Pipercross' filter and within two days I have it in my hand.
First impressions, Well presented, Fast Delivery , Well Packed. I will fit the unit a little later in the day when I have read the enclosed fitting instructions.

Fitting
*Fitting the unit onto the engine of the 'A' Class couldn't have been easier.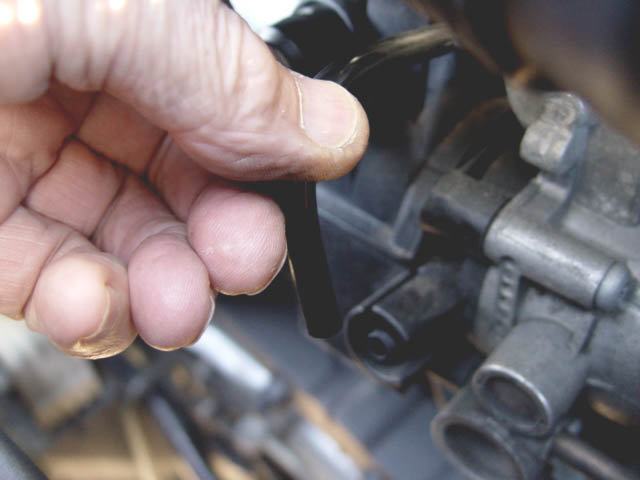 * Using Sergio's photos I was easily able to identify the location where the unit had to be placed.* I firstly located a piece of polythene hose that would enable me to connect the unit and yet look as neat as possible this I did using a very short piece of 8mm bore tube.
* having removed the existing hose and rubber elbow from the car I pushed a 25mm length of 8mm bore tube into the elbow, this was to extend the connection to the engine and to allow me room to connect the 'Pipercross' filter to the unit, which acts as of course a filter but also a silencer purchased at the same time as the CB26P.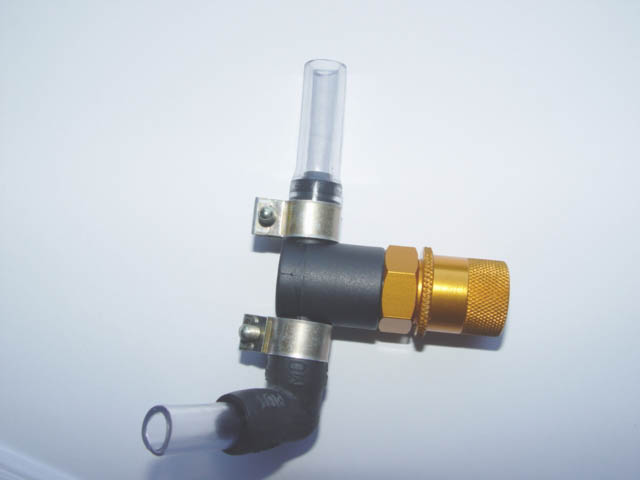 * I then inserted the 'Ecotek' plastic 'T' piece into the other side of the elbow.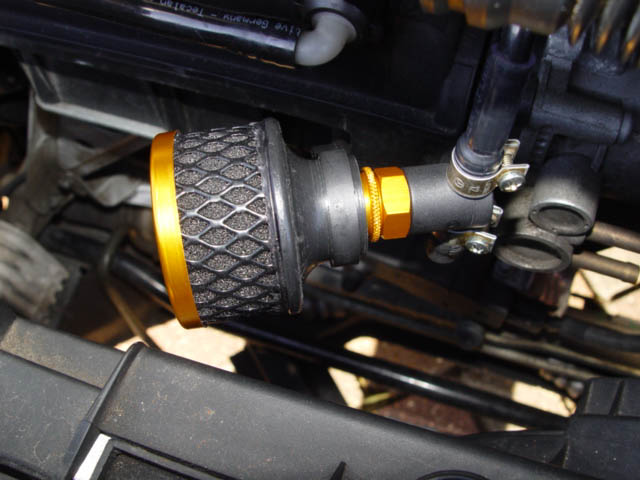 *I then fitted a piece of tube 8mm internal dia, 50mm long into the other side of the 'Ecotek' unit.
*this existing vacuum tube was just inserted fully into the polythene tube, because of the amount of tube inserted a clip was not required. In both instances of fitting the polythene tub was heated in hot water to get flexibility in the hose and allow fitting.
* None of the original pipe work or fittings have been altered or cut, simply re-positioned and so could be replaced back to the original layout if required. Which of course means that if I sell the car I can remove the CB26P & filter in seconds and re-instate the hose as before fitting the CB26P.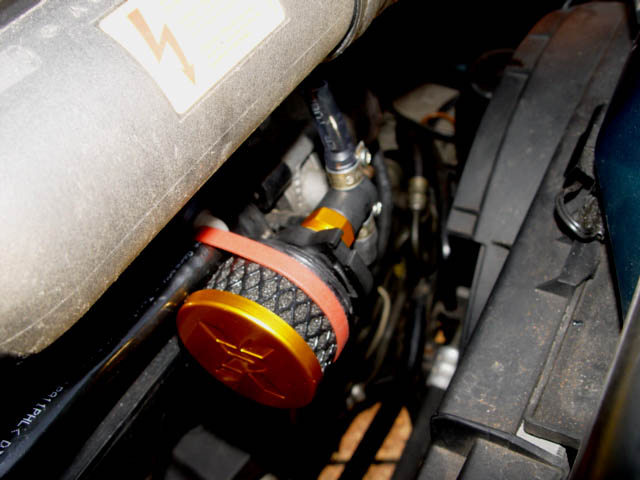 Setting the unit up.
*Having set the unit up using Sergio's video guide, I then secured the 'Piper cross' filter to the white plastic elbow which is conveniently situated on the face of the engine, this was purely to secure the unit and filter and to prevent possible loss.
* The cable tie is of the re-usable type and so the filter can easily be removed for cleaning as necessary at a later date, I would include this on my annual service 'A' or 'B'.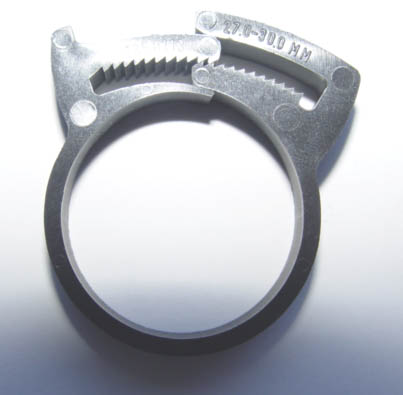 *The the 'skiffy' clip that secures the air filter is again re-usable Simply move the ends left and right and the clip will reopen undamaged.








* The screw jubilee type clips were as fitted to the fuel filter hoses £1.09 each. Mercedes-Benz Parts, they are neat well made and ideal for the job. MB part Number .MN916 002 012 10090 (020205) clamp


I have an MOT coming up in a couple of weeks so it will be interesting to compare the emissions test from last year.
I sit back now and hopefully reap the rewards, my initial reactions are that the car has more power and it is noticeable , so much so that I'm not prepared to believe it until I have given the car a good run. I will keep you all informed.
I also noted that where the exhaust emissions hit the ground , I have a down pipe attached to my exhaust tail pipe, there was just a condensation ring, I have previously thought the car to be running rich even though the ECU is only a twelve months old a good sign when setting up an old style carburettor by hand.

8th February 2007 Well I took the car for the MOT today, and blanked off the CB26P before going. I then got the garage to test the car as normal, The C02 reading was 0.001 at 2500-3000 RPM which is already far better than most cars. We then by arrangement removed the blanking plug and within seconds the reading went to 0.000 You just can't get better than that. I would have been interesting to see just how much the C02 was reduced by, as you can appreciate in this case it could only delete what was there which was very little. So I have a DGA-1800 V3-51 with the 0.000 CO2 shown which is great for my grand children, I'm doing my bit for Global warming. It also confirms the companies claims that emissions are reduced, In the second case more throttle response, yes I go along with that as well, I have yet to carry out tests on reduced fuel consumption I need a decent run for that.

Please note If as a result of reading this information you are interested enough to want to purchase a unit's for your car and would like to take advantage of a pre-arranged 10% discount then please ring this telephone number with your order,
From the UK 0700 340 1451 If phoning From Outside the UK 00 44 700 340 1451 Please be aware that standard rate call charges apply. Postage & packing costs are not discounted. When phoning your order, please bear in mind that you may be greeted by an answer phone, leave you contact details as requested, including county code and the company representative will call you back for the details of your order.
Please note this 10% discount applies to individual orders and not trade or bulk orders.




UPDATEGood news at last, some of you may be aware that like Sergio, I also fitted the above devise on my A Class see page 93, and was at the time able to say that it was conclusively proved to reduce exhaust gas omissions. Following testing on the MOT test. Well I have at last got round to doing a decent run with various types/speeds of driving and can know add that as is claimed in the sales literature for the unit fuel, MPG is also improved, Not a lot but over a distance and with the cost of fuel now at a £ a litre it does matter.
In 2004 I did 1700 miles and got 45.40 miles to the gallon.

The same trip, up the Scotland from the South Coast of the UK Sept/Oct 2007 1521 miles driven 46.85 to the gallon these were calculated on return paying attention to getting max fuel loaded on each occasion and all fuel receipts showing the amount of fuel purchased, so I'm confident these figures are as accurate as possible. I'm happy with that figure bearing in mind that I travelled at 70 MPH for very long distances and cruised for long periods as well as sight seeing in Scotland with plenty of stops.

Lofty has no connection with 'Ecotek Performance Technologies' other than being a customer, the discount is given to 'Lofty's Homepage readers as a gesture of goodwill which is much appreciated.


Next.
Back to Index,
Purchase DVD.
Please Make a Donation.