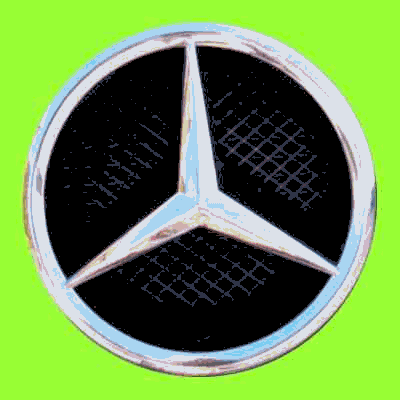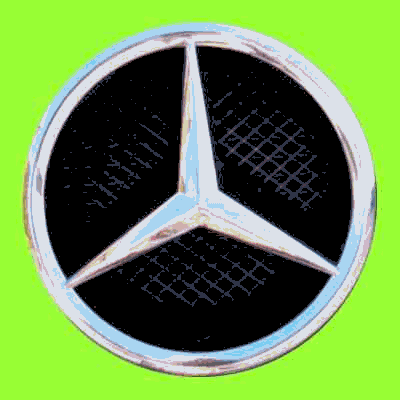 'Welcome to Lofty's Homepage'

Welcome to the section on "Mercedes-Benz 'A' Class"

History


So just how did this car finish up with a big name as well as ABS & (ESP( automatic braking system)( electronic stability programme) as well as a host of other safety features? Well I'll let Big John and Brarol tell you between them , and for the doubters this is a true story.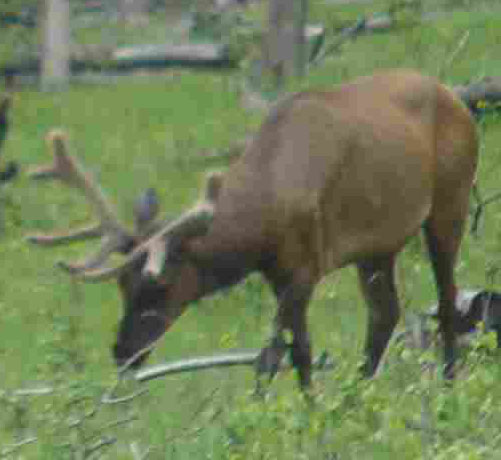 Over to Big-John I wan-a tell you a story! which Describes a crisis situation that faced Mercedes-Benz in 1997. Mercedes entered the compact car segment by introducing a revolutionary new car the A-class. The A-class was positioned as an entry-level vehicle in the Mercedes line and represented Mercedes' attempt to grow beyond its core market.
A few days after the car was officially introduced an enterprising Swedish motoring journalist put the car through his magazine's routine "elk avoidance" test, which involved driving the car towards a large, fake elk and swerving suddenly. Unfortunately the A Class turned over. And created extensive media coverage in Germany and other European countries, threatening the success of the A-class launch. The journalist became a global hero, but Mercedes had to spend hundreds of millions of pounds re-engineering the car's suspension.
The solution was the introduction of stiffer suspension, low profile tyres and ESP as standard across the range. Production was curtailed or suspended whilst these emergency design changes were undertaken. Sales were suspended and existing cars recalled and reworked. The End.

Over to Blarol 'down under' (Australia)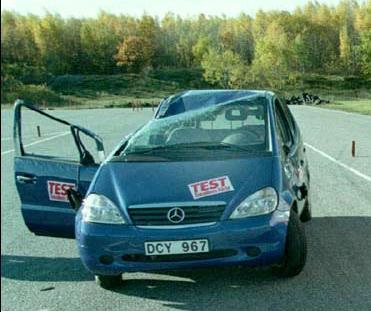 Just to add to the "Story". The Swedish A class in question was loaded with 5 passengers and 150Kgs of ballast. The result was one broken arm and lacerations for one of the occupants (for a 60kph rollover), broken windscreen, upper A pillar damage plus panel scratches and dents. It also interesting to note that the car was fitted with the winter spec narrow tyres (to simulate moose on road time). Closer inspection of the car indicated that the turning in front tyre rim dug into the road causing the instability. When repeated on the then normal spec tyres no one could get it to rollover but the public damage was done. I also believe that all the small high driving position cars (mainly Japanese) at that time failed as well. It is for the reason of little rollover damage that occurred and the subsequent safety modifications that I bought the A class. It fitted MB's claim of big car safety in a small one. OK after suffering the long list of you all knows what problems, I still feel that the original concept was a good one but badly executed. I fear that MB might have tried to save the cost of the safety modifications in the manufacture, which probably at the time was understandable! Have fun, Jim PS I am not or never have been employed by MB or its associates only the owner of a u beaut car. The Very End.
thank you guys.

So where do I, 'Lofty' come in to all this? Well in September of 2003 I decided, or rather my family decided that we should purchase a vehicle that offered more protection in the event of an accident. My existing Peugeot 205 diesel was 11 years old but only had 70000 miles on the clock and was almost part of the family! But all it had for protection was a drivers Airbag.
I having been in the British Fire Service for just on 30 years was well aware of the dangers of modern, fast vehicles, and no matter how careful you are, it does not stop other vehicles involving you in an incident a number of which have serious consequences for the occupants a number of which cause fatalities.
I deliberately use the word 'Incident', because in my opinion there are few genuine 'accidents'.

And so the search began with me looking at a vast range of New & Used cars, some more impressive than others. Mercedes however didn't even enter my head, However having passed a main dealers display I decided stop, I could at least look, I can't say I was impressed with the welcome I received from the sales staff, in fact they didn't even ask me if they could help. But I was in a 'boiler suit', which probably explains that. The 'A' Class on display, I must say did catch my eye, but no more than that as the colour a deep purple and that certainly wasn't for me.
However it wasn't many days before I located a low Mileage A160 and having looked at the spec. and the condition of the car along with the 17000 miles on the clock after a test run decided to purchase the vehicle.

Servicing however at this point never entered my head, although I have no engineering qualifications I knew I was capable of doing most things on cars as I have done over the last 45 50 years. Little did I know there was no Haynes Manual for this car, or the the degree of sophistication of this modern vehicle, or that the fact that staff at Mercedes- Benz outlets had obviously been sworn to secrecy.
that iswhy and how my site started, disillusioned at not be able to find information I started taking photographs and writing down the sequences for undertaking various tasks, and the result is the site you see to day, albeit I had to learn HTML to allow me to make the information available to other Owners. since that time 315496 visitors (31/102/09) have visited the Mercedes-Benz 'A' Class section of this site,these visitors are from all over the World.
I trust like many of them you will find the information interesting and more importantly useful in maintaining your car and finding faults and correcting them, and as there is no charge you can come as often as you like. If in the long term you decide the information is useful you may wish to either donate, or purchase my CD or ignition module cover removal tools for the petrol version of the 'A' Class, the income from which helps keep this site on the web and free.
Thank you
Lofty (The Haynes Manual for the 'A' Class W168 up to 04, was published in November 2008, I haven't purchased a copy so cannot comment on the content.)

So there you have it, that ishow we came to have a car so well equipped and safe to drive as well as a site dedicated to the 'A' Class car produced without the help of Mercedes -Benz but helping owners to understand their cars and deal with faults without the severe costs being applied even for the simplest of problems.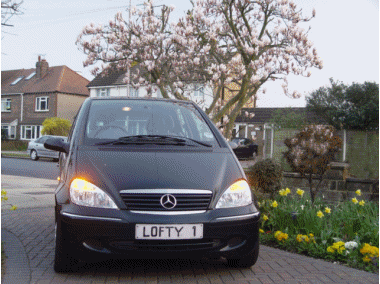 Just a few photo's of my car to get us started and in the mood .
Springtime 2005 and yet another springtime arrives along with all the New Year has to offer.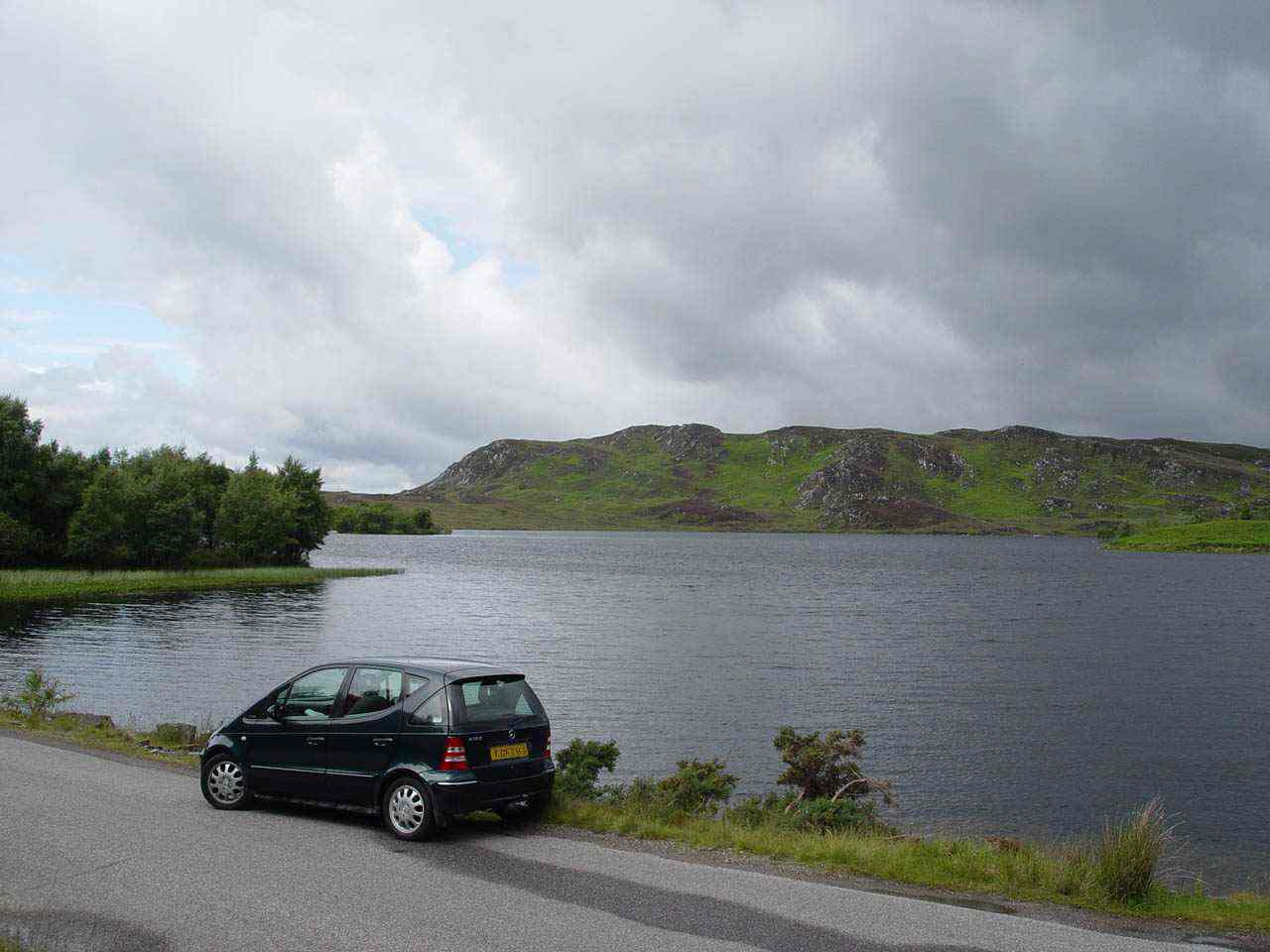 What a great little car, doesn't look out of place no matter where you park it. From the South Coast of England to the Highlands of Scotland, on motorways as well as the narrowest of side roads with passing places, 1725 miles in all, at speeds up to 70 and down to touring at 20 mph on the isolated roads, well away from the hustle and bustle of modern day living and all with a return of 45.4mpg average consumption. Great car, a pleasure to drive. 24th June - 7th July 04. Oh the pleasures of retirement!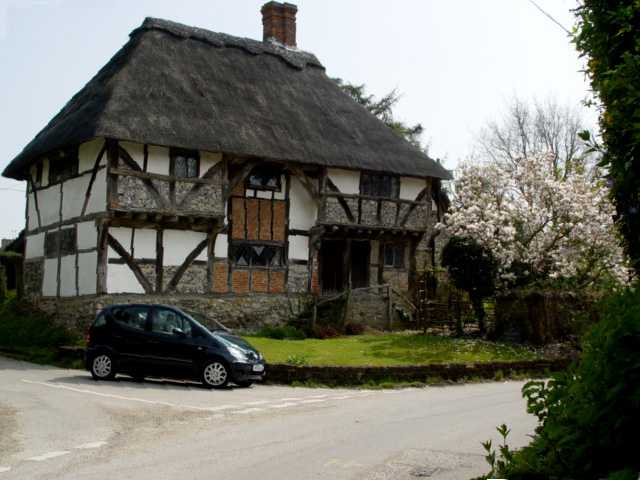 The Old & the New, my 2002/160 Elegance, Mangrove Green (British Racing green) blending into the beautiful background of the West Sussex Country side and Yeoman's House situated to the North of the Southdown's not far from The Roman Villa at Bignor.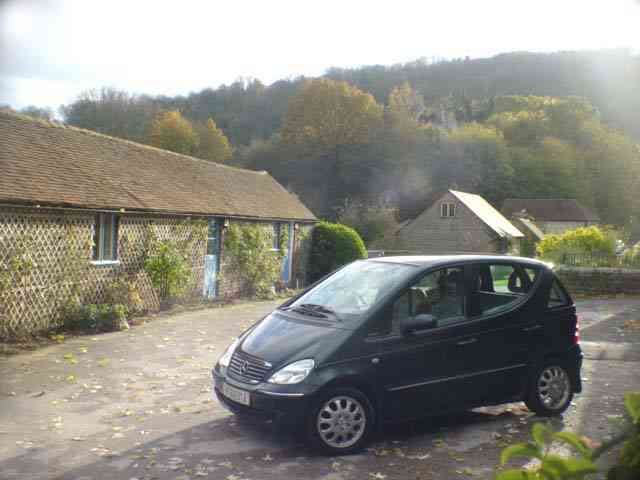 A cold November day, at the Duncton Mill Trout Fishery but a beautiful spot nestling at the back of the Southdown's to the North of Slidon, Near Arundel in West Sussex, and the fish were plentiful.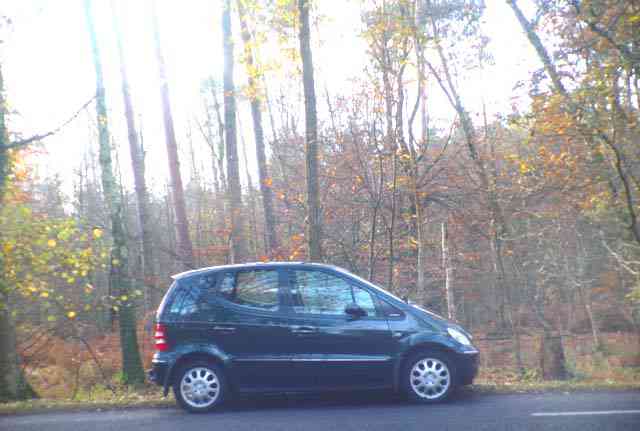 A very neat package.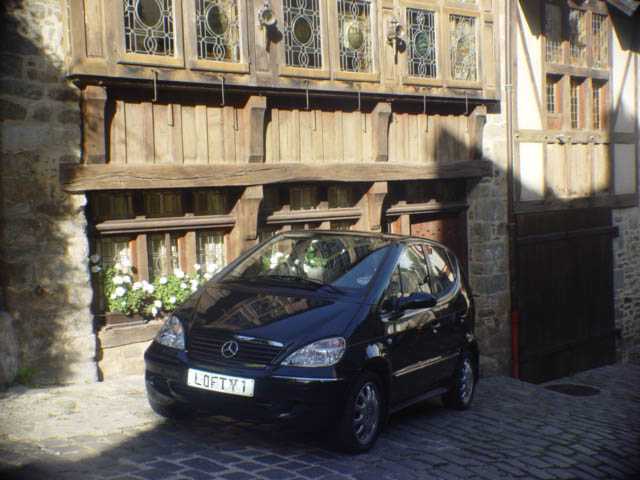 Into France October 04, Brittany, Dinan, Outside of our 15th Century accommodation. The car took it all in it is stride, despite the acute angle of the cobbled winding street.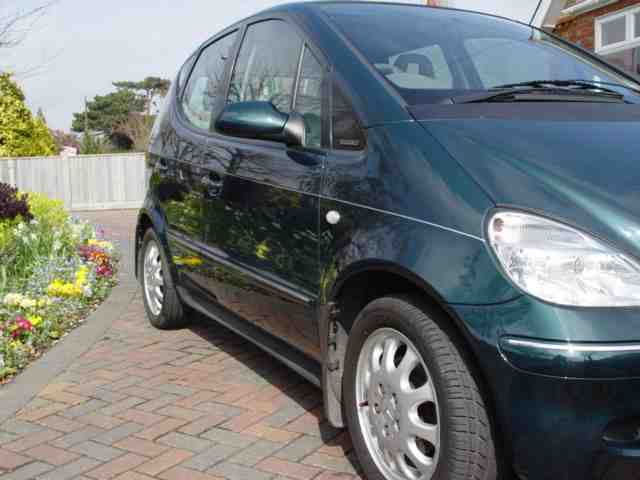 Silver Coach line, positioned on the high point of the panels helps to break up the large areas of solid paintwork, Even MB service staff noticed and commented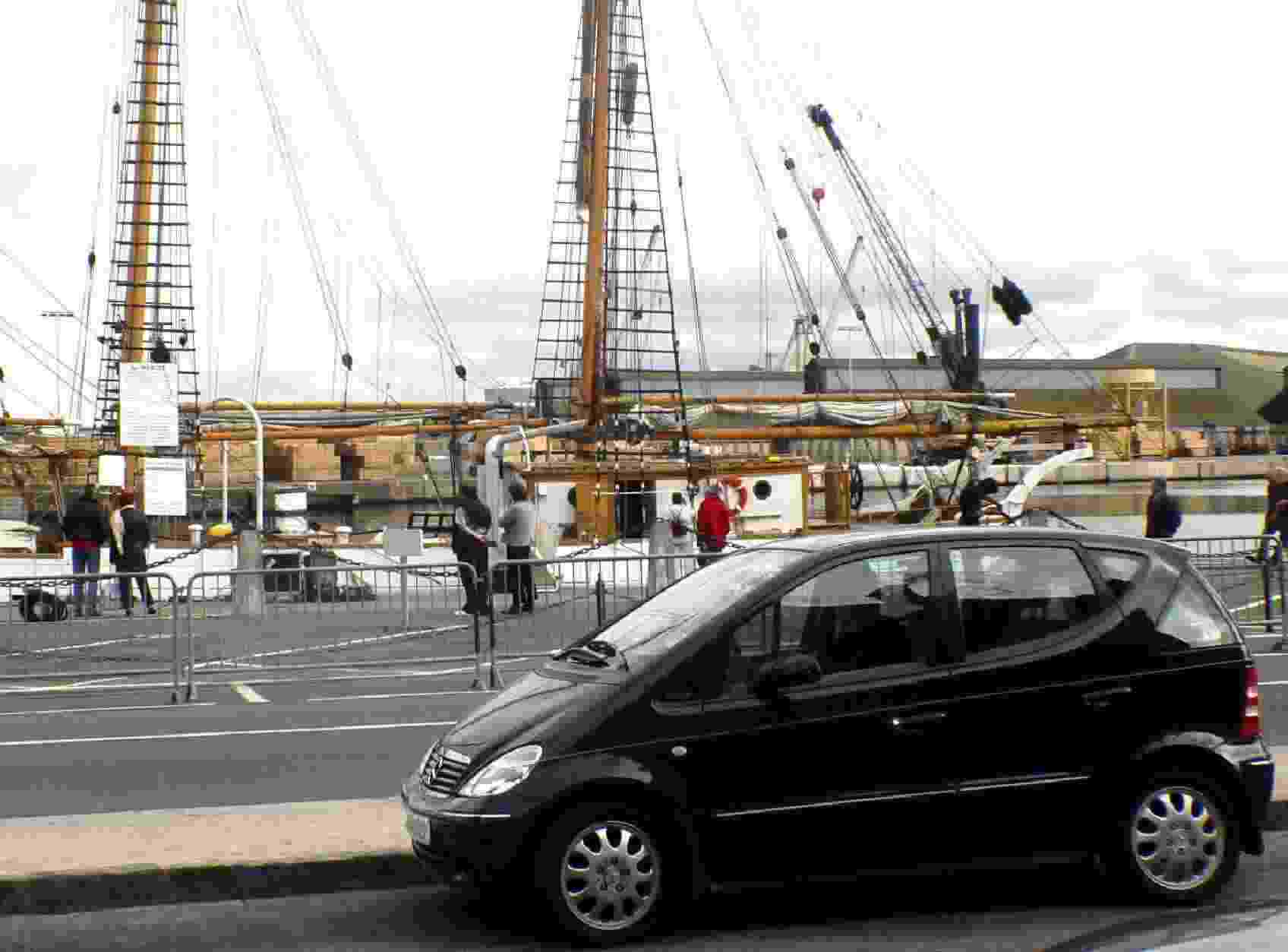 St.Marlo Northern France 04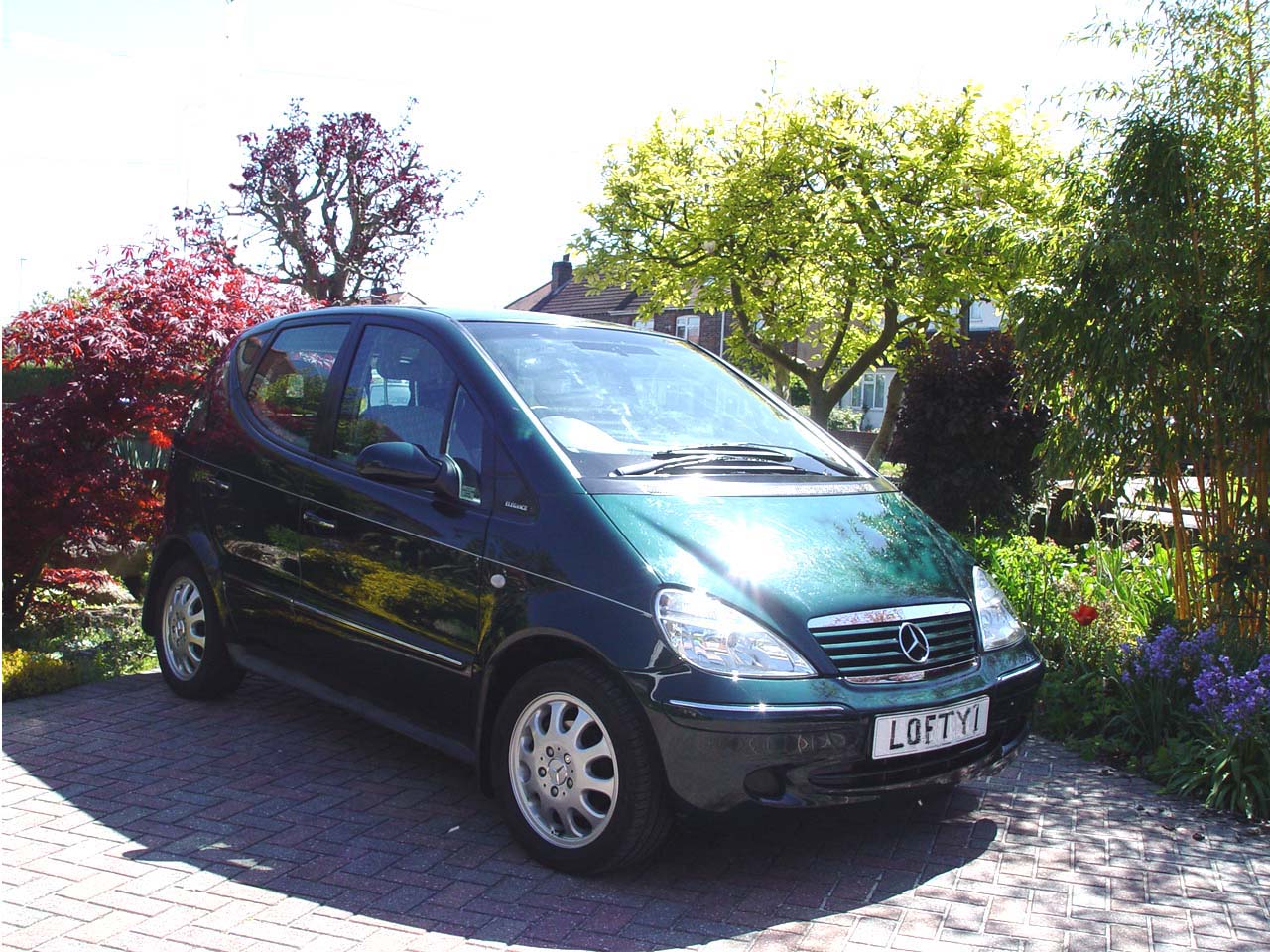 Safe on the drive, and still going well April 2009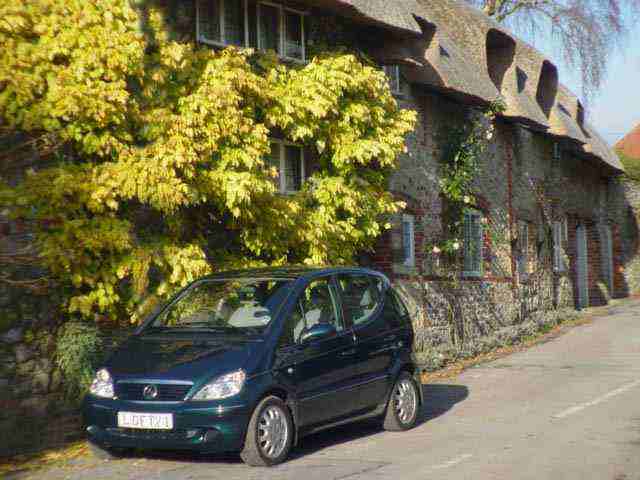 Houghton Village West Sussex Late Nov 04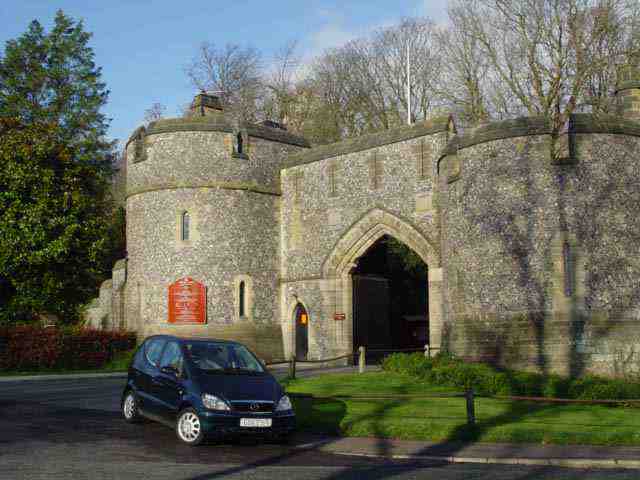 South Gate, Arundel Castle, West Sussex, Home of the 'Duke of Norfolk'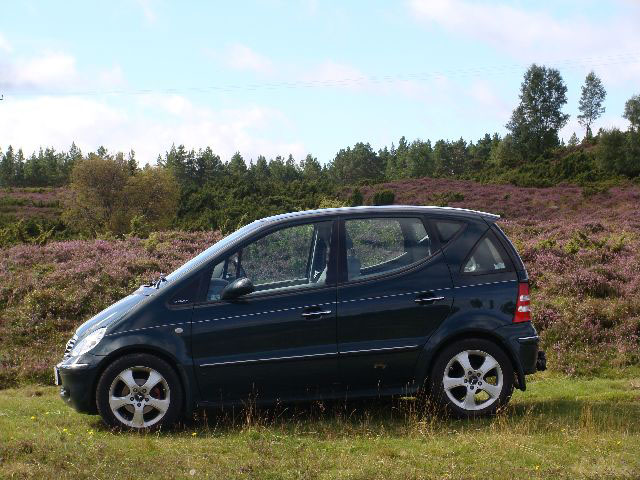 Back in Scotland August 2012 and 43000 miles later still looking good and going strong, a 1274, mile round trip and ran like a dream. MPG not so good as the new versions of the A class but a healthy 47.5 to the gallon mainly long run but with some town work while on Holiday

The main problems experienced during this period:-
. 1 x ECU/MAFS replaced ( these can now be rebuilt by ECU testing at a fraction of the cost of new)
1 x combination switch replaced
3 x Drivers seat adjusting levers see modified part mypage 36
Plus DIY servicing, including brakes, brake fluid, and coolant, replenish.
Noisy windscreen wipers overcome by using 'Rain away' which prevents all the wiper judder. Needs to be re-applied if going on a long run.
I also carry a small bottle in the car.

The wheels currently fitted are W169 16" wheels which make for a better ride and correct the Speedo error of -3MPH which has always been apparent on this car.
This is not a straight swap as new MB dome-head wheel bolts have to be fitted. along with one other small modification, Aluminium W168 wheel bolts are not suitable for these wheels.



Next.
Back to Index,
Purchase DVD.
Please Make a Donation.